Take advantage of Finhaven™ Private Markets' technology
The Finhaven™ Investment Platform provides you with 100% digital investment experience: onboarding, purchase and sale of your private securities, holding them in your wallet, receiving interest and dividends, and communicating with issuers.
The Finhaven Investment Platform:
Let our Finhaven Investment Platform take care of your capital raising needs!
The Finhaven Investment Platform is a capital market infrastructure for digital securities and currencies leveraging blockchain technology to integrate global capital markets. Our platform will be available to investors, dealers and marketplaces as a licensed subscription.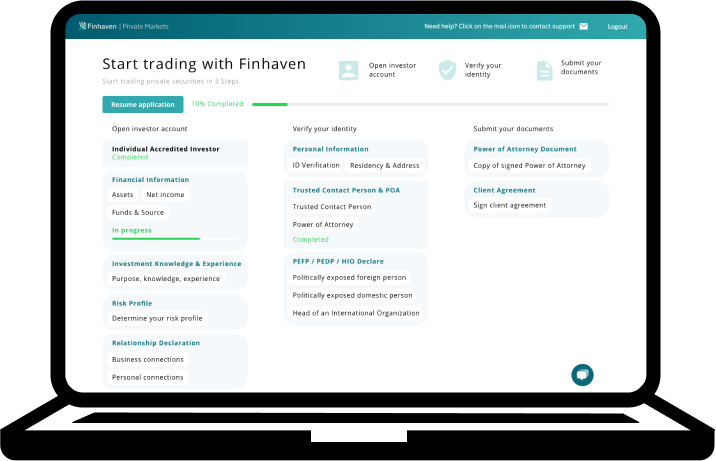 Invest in Private Securities Today:
Finhaven Private Markets is an investment platform built on a blockchain with no purchase fee or account management fee. This video will guide you through the process of setting up your FINWallet™ account and how to purchase securities. As an Issuer, you will be able to raise capital and manage information easily through the Issuer Dashboard. Finhaven™ provides a one-stop solution for your investment needs. Whether you are looking to purchase private securities or are raising capital.
Featured Companies on Finhaven Private Markets
Introducing FINWallet as a service
Take sole custody of your Digital Assets
Your digital securities will be held securely in your FINWallet. Only you have the private key, and only you have custody of your securities.
Access your Digitals Securities and Crypto Portfolio with FINWallet™
The FINWallet™ will be a multi-crypto-exchange connector, a single access point to your various crypto accounts. Effortlessly manage your crypto portfolio from here.